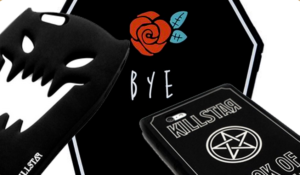 A smartphone is a girls best friend?
Partly I agree. I need my phone to get help in serious situations and so you want it to be dressed matching your personal style.
My Top 3 iPhone Case picks
---
I decided to show you my recent top 3 iphone cases that I stumbled upon on the good old world wide web. As you can imagine those cases are indeed fitted to my personal style and aesthetics. So enjoy!
Number 1
Valfré provides you with a lot of different unique goodies! And their new iphone case is simple adorable!
Number 2

Killstar should be a well known brand for every alternative person out there by now, have you checked their new phone covers?
Number 3

Killstar again and I simple adore the spooky range of items.
Have you dressed your phone yet?
Remember most smartphones can't stand the cold very good so a case is not only good looking and protective when the phone drops, a silicon case can also protect your phone against the cold winter temperatures.
I hope you enjoyed my favourites!
What are your favourites at the moment? Let me know!